Samurize Tutorial
Samurize 1.0.1 Visual Tutorial


Questions, comments and criticism can be emailed to NeM at


Special thanks to:


VincentB for remaking some of the images in .gif format to drastically reduce loading times

My girlfriend Jo for pointing out all my typos and spelling mistakes



Last modified 22:10 Mon 24 Nov 2003, with minor image updates on May 30 2006.


Index
Client Program

This program is the one that does all the pretty stuff; it displays your Samurize config on the desktop. You can always tell if the client is running because its icon will appear in the system tray:





When you right-click on the tray icon, you get given a menu with all the client options:





Select Config File: lets you choose a Samurize config out of all the config files in your Configs directory.

Reload Config: does as it says - reloads the current config. Useful for checking if scripts are working as they should be.

Edit Config File: opens the Config program to edit the current config.

Position: has a number of options



Always on top - makes the config sit on top of all other windows etc. on your desktop.

Pin to desktop - makes the config sit behind everything (except desktop icons) on your desktop. The config cannot be moved around in this mode.

Normal window behaviour - the config behaves like any other desktop window (it can be moved, brought to the front by clicking on it etc.)

Lock position - the config cannot be dragged around using the left mouse button (it is locked in place).

Click Through - any mouse clicks on the config go through to the desktop or window behind the config.

Use Designed Position - the config appears in the position it was placed in the config editor (otherwise it appears in the upper-left corner of your desktop)



Pause: halts the Samurize config - nothing will update until this option is unchecked.

Client Info: displays the name of the config file and its Instance Name (useful for running multiple instances of the client program)

Language: allows you to change the language Samurize menus and options appear in.

About: displays information about the authors and version.

Exit: closes the client program.


Back to Index
Config Program

This program is the "Config factory" - where you build your Samurize configs. When you start this program, you will be presented with a window similar to this:











The menu bar along the top should be pretty familiar to anyone who has used any kind of editor program before.


The File menu contains the commands:


New - creates a new empty config.

Open - opens a previously saved config file.

Merge - merges the meters from an existing config file into the one currently being built.

Save - saves the config.

Save As - saves the config to a specified file.

Exit - quits the program.

The Edit menu has Cut, Copy, Paste, Delete and Select All commands for selecting and duplicating Design Area objects/meters.

The Format menu has alignment options for lining the selected meters up together.

The Test menu allows you to test aspects of your config.

The Language menu allows you to select the language menus and options in Samurize appear in.

The Help menu has:


Help - opens the Samurize help file.

Online Tutorial (what you are looking at now!)

Visit Homepage - takes you to the Samurize website.

About - displays information about the program and its creators.

Donate - takes you to the Samurize PayPal donation page.

The bottom & top panels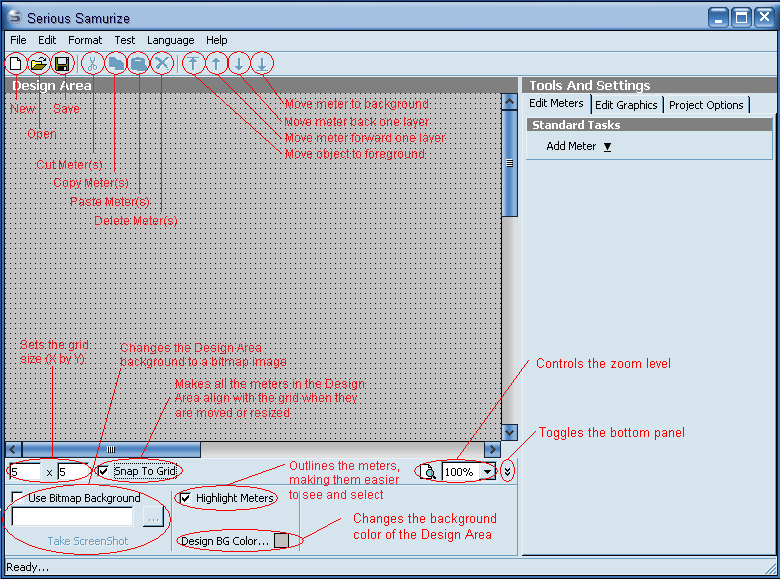 Note: If not all of the options on the bottom panel are visible, click this:
The Tools and Setting panel






This is where the real 'magic' of Samurize is done! Whether making a simple little config to sit in the corner of your desktop or a mammoth news, system and weather information panel, this is where you'll spend most of your time
Edit Meters Tab

This tab may seem a little empty at first, but that's only because you haven't added any meters yet. Clicking on the Add Meter button pops up a list of all the different types of meters Samurize has to offer.






After you have selected a meter, you will be presented with a set of options
related to that meter. The first options displayed are general settings for
the meter:







The Draw Type of the meter determines how its data is displayed (more on this shortly).


There are also fields for manually positioning the meter (more accurate than dragging
them around with the mouse).


Some of these are common to all meters and are described in the pictures below.







Common Text Meter options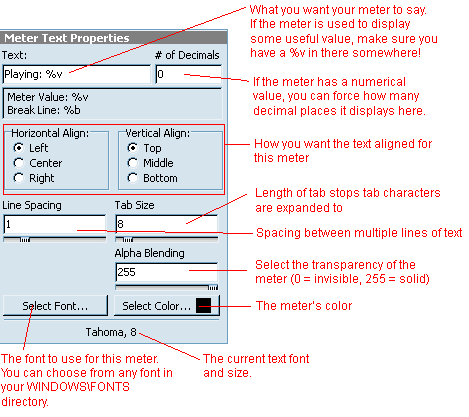 Common Progressbar Meter Options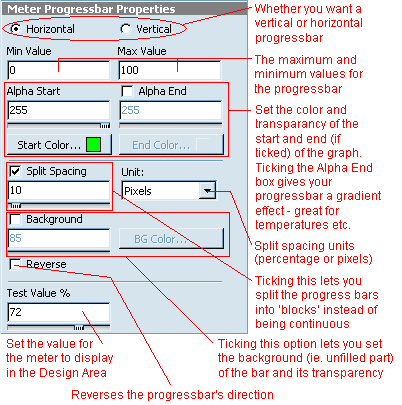 Common Graph Meter options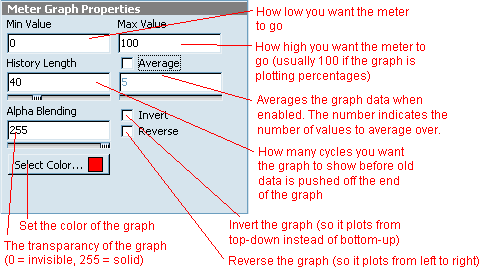 Common Analog Meter Options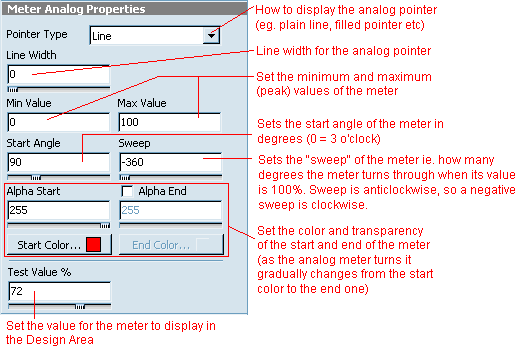 Common Histogram Meter Options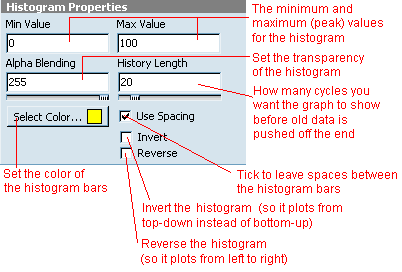 Common Pie Meter Options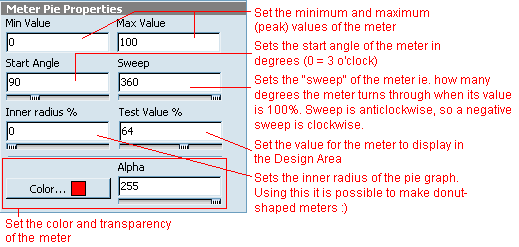 Common PNG Image Meter Options

Hyperlinks

Any meter in your config can have a hyperlink added to it so that when you double-click the meter, a web page is opened, program executed... the possibilities are endless!
Every meter you add has an option checkbox labelled Allow Meter-Linkage.



Checking the box results in the following display: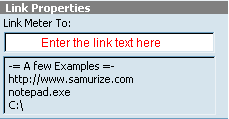 Enter your link in the indicated text field. It can be a URL for a website (eg. http://www.samurize.com, http://www.cnn.com), a directory (eg. C:\WINDOWS), a program (eg. mspaint.exe) or a file (eg. C:\WINDOWS\Greenstone.bmp). NOTE: Links to files will be opened with the default viewer for that file type. Hyperlinks will open in Internet Exploror if they are preceded by http:// (if you remove the http:// they should open in your default browser). Hyperlinks will not work if your config is pinned to the desktop.





Alert Values

Coming soon
Meter-specific Settings




Text meters are the simplest type of meter - they just display a static piece
of text. They are useful for labelling parts of your config.




This is one of the most frequently asked about meters, and is probably the hardest to explain because the function usage varies from script to script. Make sure you read the script's readme file or the comments the script's author has posted when he uploaded the script on www.samurize.com
so you know how to use the script.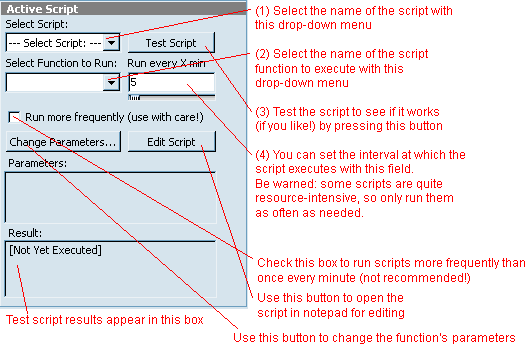 Notes:


Some scripts write temporary files to your hard drive so you may get warnings from antivirus software saying that they are malicious scripts. If this worries you, always check what these scripts are doing either by either asking the author or posting on the Samurize forums.

Scripts that do use temporary files often have a function called 'writeFile' or 'updateListing' or something similar, which do not seem to produce any result. These functions are necessary to keep the script up-to-date! Either hide them away (put no text in their text box) or mask them as a plain text meter.

Scripts that retreive news, TV listings etc from the internet typically need you to be connected to the internet at all times to keep them up-to-date. This may seem obvious, but you'd be surprised at how many people ask about this

Check the script readme or ask the script's author for details of parameters to pass.






This meter is for running applications from the console and using their output in Samurize. Any executable program that can be run from a command prompt can be used with this meter.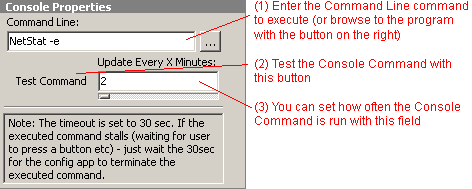 Note that some commands do not seem to work (eg. mem) - they just time out.





This meter is used to display in real-time the current time and date.














If you want to monitor disk usage, this meter is the way to go





Note: the '%' Unit is handy if you want to display disk usage as any kind of graphical meter.




To use this meter, you must have Motherboard Monitor (MBM) installed and running. It displays information from MBM such as CPU temperature etc.















This meter can display information about the amount of physical or virtual memory you have in use, free and in total, and also the size of your pagefile.
















This meter is the richest of them all - the amount of things it can display is staggering!! There are far too many things to list here - you'll have to play around with it yourself. Some of its more common uses are shown in the
step-by-step tutorial.



When you first select this meter, you will be presented with the following window: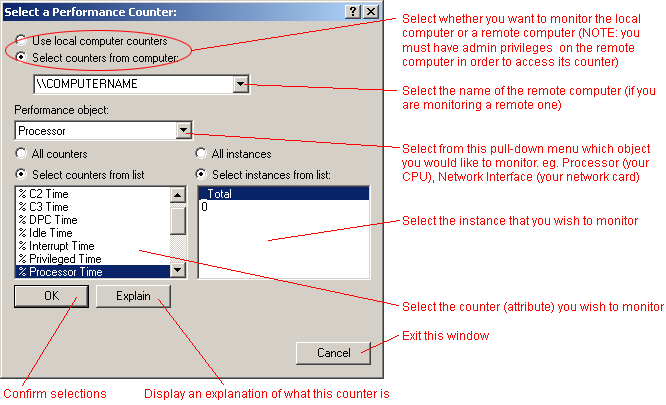 Once you have selected the performance object, counter etc. the Tools and Setting Tab will display the following: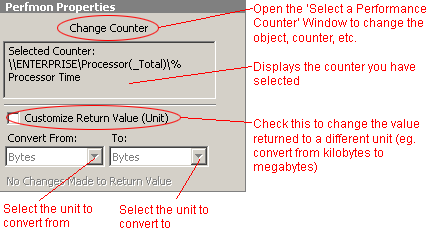 Plugins are very similar to scripts except that they are a lot more powerful. They can be written in more conventional languages such as C++ or Delphi and as a result are not limited to scripting language constructs. They also potentially use less resources.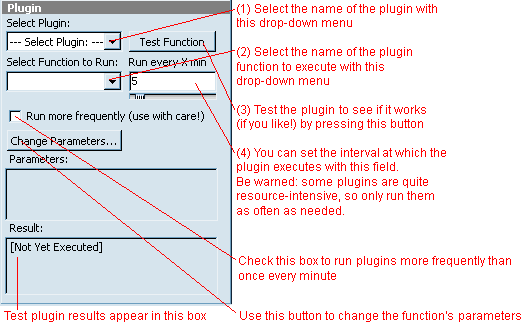 All this meter does is simply display how many new emails you have in your POP3 email account inbox. You will need to contact your mail provider if you do not know the mail server address or port.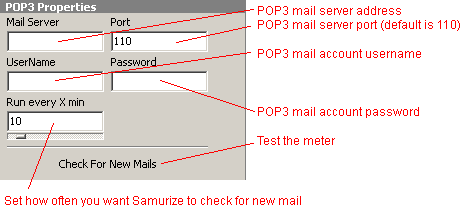 NOTE: If your POP3 username and password do not seem to save when you enter them in the Config program, save the config file as it is, and open it in notepad. Look for a section similar to the following:


[Source XX]
Type=TMailCollector
Port=110
Interval=5
UserName=
Password=
Server=[your mail server]

Add to the line that says 'UserName=' your username, and add your password to the end of the line that says 'Password='. Save the config and open it in Samurize and it should be fixed. It's that simple!




This meter is similar to a plain Text meter, except that it reads from a file instead of you entering the text into the field in Samurize. It is commonly used in conjunction with scripts (eg. news scripts).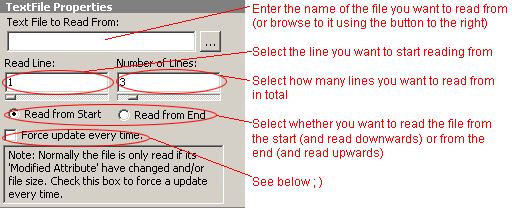 Displays how much data your computer has uploaded or downloaded from the time it was last booted.
















Displays how long your computer has been running for (since it was last booted).














Just when you thought Perfmon meters were great - wait til you see the WMI meters! These meters can report more than just numerical values - they can display information about disk drives, your video card, operating system and much much more! If you are familiar with the ExtendedProps or ExtendedDrive scripts, WMI meters can do everything these two scripts can do and more.














Pressing the Change Settings button presents you with the following window, where you can choose what you want the meter to display.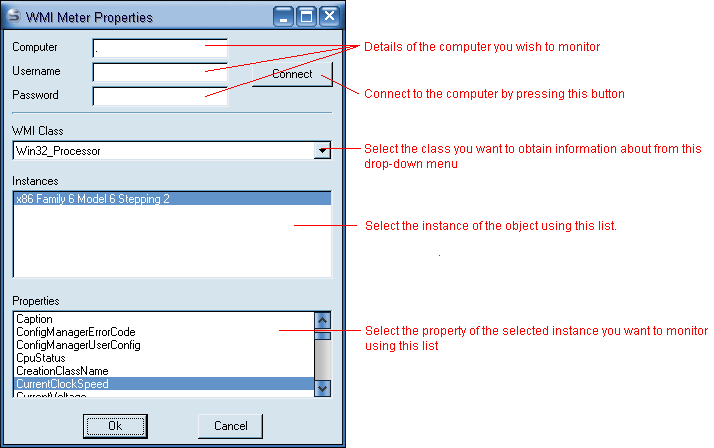 Displays info about the current track playing in foobar2000. It shows the title text of the foobar2000 window, which in configurable via the preferences in foobar2000.


Displays info about the current track playing in Quintessential Player (QCD). It shows the title text of the QCD window, which in configurable via the preferences in QCD.



Displays info about the current track playing in Winamp. It can show the bitrate, sample rate, playlist position, percentage completion (useful for progressbars) and more. For all the formatting options for this meter, click on the '?' button to the right of the Format field.















Displays info about your laptop's battery level (assuming Samurize is running on a laptop!). This meter works exactly the same as a Text meter. Just make sure there is a %v in the Text field area, otherwise
the info will not be displayed.






Edit Graphics Tab






This tab allows you to add aesthetic features to your config - essentially to make it look pretty
You can add coloured rectangles, ellipses, rounded rectangles or 32-bit alpha-transparent .PNG graphic files to your config using this panel. The options presented in this panel are pretty self-explanatory (or have been described in earlier sections eg. alpha blending) - have a play round with them if you're not sure about some things
Project Options Tab






This tab contains a number of configuration options for your config.



Update Interval


This option changes how often the Samurize clients update the meters on your config. The lower this setting, the more often your config is updated, giving you more accurate information but consuming more CPU power.


Start MBM on load


This option tells Samurize to load MBM DLLs in order to obtain data from Motherboard Monitor (MBM). You must still have MBM installed and configured correctly for your computer, but with this option checked you do not have to have MBM running in order for Samurize to report CPU temperatures, fan speeds etc.


Select Tray Icon


This option allows you to choose from a number of Samurize icons to use as the tray icon when the Samurize client is running this config.


Reload/Pause Hotkey


You can set up some global hotkeys to reload and pause your Samurize config using these options. Just click in the desired field and press the key combination you want to use as the hotkey. Note that some keys cannot be used (Caps Lock, Scroll Lock, Pause, Print Screen).


Back to Index
[ Back to Samurize Tutorials |

]